CvSU-CHED Project MASKS: Protect, augment, educate
Despite the limitations of time and quarantine restrictions, more than 70,000 recipients benefited from Cavite State University's (CvSU) project dubbed as "Manufacture and Distribution of Adequate Facemasks for the Safety of Key Personnel and Various FrontlinerS (Project MASKS). This three-month project, funded by the Commission on Higher Education (CHED), initially targeted to bring 50,000 pieces of washable face masks to the community to help impede the transmission of COVID19.
In its pursuit to deliver excellent service even during a pandemic, CvSU, thru Project MASKS, made a humble yet significant contribution to help the community by producing and distributing washable facemasks to prevent the spread of COVID19, by providing opportunities to tailors to earn extra income, and by designing, producing, and disseminating communication materials containing reminders on how to properly use masks.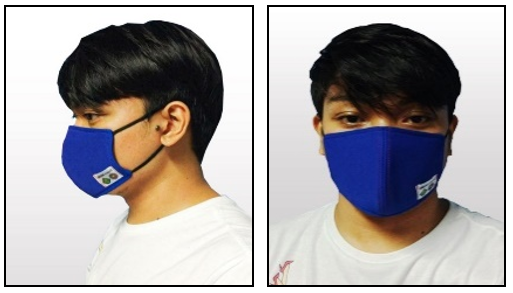 Protecting the Community
As various evidence supports that wearing of facemask can reduce the spray of droplets and thus prevent the spread of COVID19, Project MASKS provided washable facemasks to health workers, social workers, uniformed personnel, public market personnel, senior citizens, and children among others in Indang and the nearby communities.  The mask came in three sizes – small, medium, and large and were designed based on health implications, durability, mass, breathability, and usability.
All finished products were properly cleaned and sanitized prior to packaging. They were individually packed in clear polyethylene plastic bag. Volunteers from various offices in the CvSU-Main Campus, including the University President and the Vice Presidents, helped during the packaging of the sanitized masks.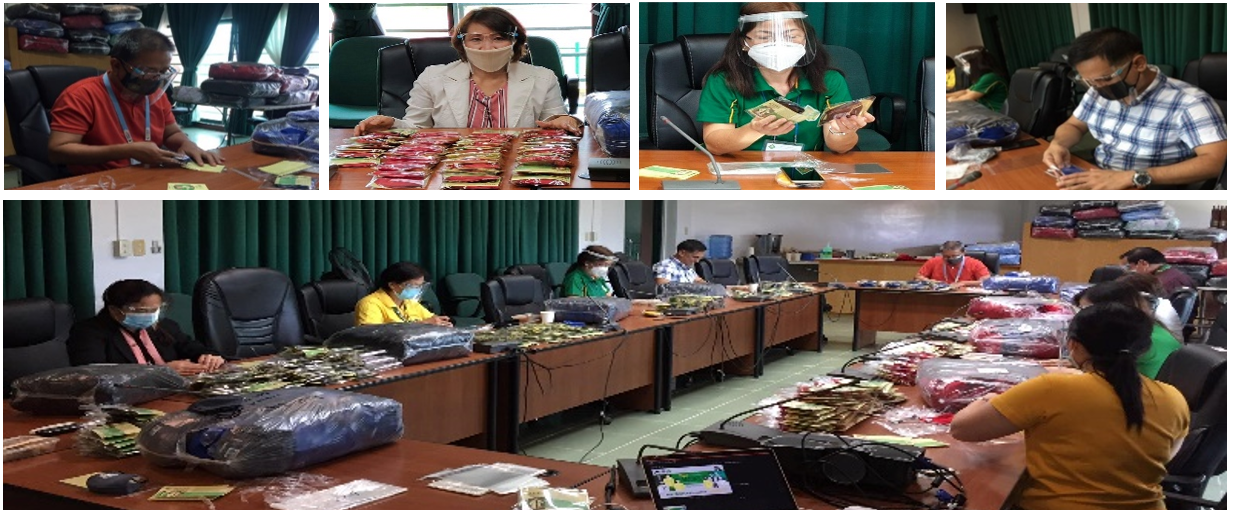 Through the support of Indang Municipal Mayor Hon. Perfecto V. Fidel Strict, boxes of masks were distributed to different barangays and elementary schools in the municipality of Indang, and to frontliners, military sector, and other community members such as persons with disabilities, women, men, and children living near the coastal areas of Rosario, Cavite. Strict obedience to health protocols and safety measures were observed during the distribution.
Helping Augment Income
Behind every mask produced lies a story of courage and perseverance of tailors who lost jobs because of the pandemic.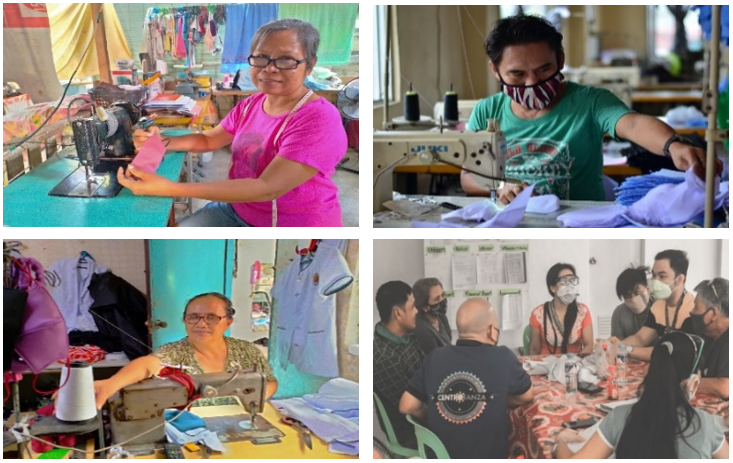 Project MASKS gave the partner-tailors new hope for new opportunities and strengthened relationships. Ten tailors from God's Will Neighborhood Association in Gawad Kalinga Rosario, Cavite were initially tapped as lead production partners in the manufacturing of facemasks. Through referrals and coordination with community partners, other tailors coming from Indang, Amadeo, Trece, and Tanza were recruited bringing the total to 36 tailors. All of whom were grateful for the opportunity to help in achieving the goal of the project and earn a living at the same time.
Since they came from different places in Cavite, a sample mask from the lead tailors were provided and a short video tutorial on how to sew and combine the parts of the facemask was also made available (https://www.youtube.com/watch?v=lopazqIisxE). Raw materials and other supplies were provided and allocated to the tailors depending on their production capacity and finished products were rigorously inspected to ensure they conform to the specifications.
Awareness-Building
To educate and inform the recipients on the proper use of masks, an acrostic was developed and placed inside each pack of mask.
| | |
| --- | --- |
| English | Filipino |
| Make sure that you wear your mask when talking to people. | Magsuot ng mask tuwing makikipag-usap sa ibang tao. |
| Adjust the mask to always cover your nose, mouth and chin. | Ayusin ang pagkakasuot ng mask upang matakluban ang ilong, bibig at baba. |
| Sanitize your hands before removing the mask through its straps. | Sanayin ang sarili na naghuhugas ng kamay bago alisin ang mask sa pamamagitan ng straps nito. |
| Keep your mask clean by washing it with soap/detergent and hot water everyday. | Kailangang palagiang labhan ang mask gamit ang sabon at mainit na tubig. |
| Sharing of used masks is not advisable. | Siguraduhing hindi ipagagamit sa iba ang mask na nagamit na. |
A Facebook page was also created to inform community members and partners on the progress of the project, for continuous advocacy to wear mask to protect one's self and their families, and a call to action for everyone to realize the value of cooperation.
The project also laid the ground for more outputs and future collaborations with the community partners.
Project MASKS was made possible through a Memorandum of Agreement (MOA) signed by CHED Chairman Prospero E. De Vera III and CvSU President Dr. Hernando D. Robles with a grant amounting to Php2,437,321.48. CvSU's former VP for Research and Extension Dr. Ruel M. Mojica served as the project leader and was assisted by Mr. Gee Jay Bartolome and Lady Aileen Orsal (project staff), Ms. Rosalie Pelle and Ms. Elizabeth Legaspi (project support staff), and Ms. Julia Francine Bagay and Mr. Aljhon Bryan Sabater (research assistants).