College of Education opens 2021 with research colloquium
To help students adapt and be adept in research and to increase their research productivity and capability, the College of Education held a student research colloquium with the theme "Reimagining Research Excellence in Education, Tourism, and Hospitality Management in the New Normal" last 08 January via Cisco Webex.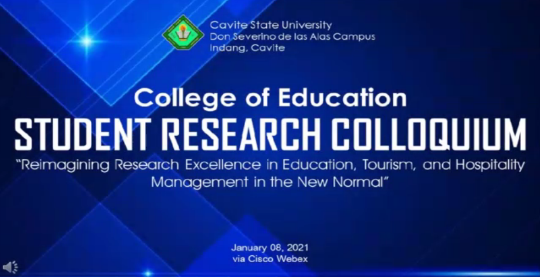 Dr. Ma. Junithesmer D. Rosales, dean of the College of Education, Polytechnic University of the Philippines delivered the keynote speech while then CvSU Vice President for Research and Extension, Dr. Ruel M. Mojica, shared his knowledge and expertise on "Research Development and Innovation in the Changing Time" during the plenary talk. He emphasized the importance of conducting research amidst all the adversities.
Highlights of the activity were the presentation of various student researches and the awarding of Best Paper and Best Proposal Awards. Here is the list of winners:
Teacher Education Category
Best Paper: "Effectiveness of Digital Comics in Learning Color of Light of Grade 8 Learners"
Authors: Jhowielyn Cuadra, Joyce Ann Depiña, Jelson Mondas, Charisse Kim Nuguid, and Beleth Vidal
Adviser: Dr. Jovan B. Alitagtag
Best Proposal: "Assessment of Competencies of Bachelor in Technology and Livelihood Education Students at Cavite State University"
Authors: Crystel Jade Bermudo, Ly-An Joy Herpacio, Necy Sanchez, and Cedrick Erol Uy
Adviser: Dr. Jovan B. Alitagtag
Tourism and Hospitality Management Category
Best Paper: "Job Performance of Tourism Management Graduates of Cavite State University – Main Campus, Indang, Cavite, AY 2010-2019″
Authors: Ryan Ken Bulilan, Maan Hingpis, Sojin Kang, Ma. Jukie Ann Loyola, Khrist Anne Pajo, Jessa Perido, Chrishane Nicole Vergar
Adviser: Dr. Pia Rhoda P. Lucero
Best Proposal: "Acceptability of Jackfruit Rags (Artocarpus Heterophyllus) as Filling in Making Tart"
Authors: Perrine Beltran, John Paul Lemita, Christine Lerios, and Runel Umbal
Adviser: Dr. Jennifer E. Barrientos
Evaluators in the Teacher Education Category were Dr. Agnes C. Francisco, Mr. Jonathan R. Digma, and Mr. Glenn Cryan A. Creencia, while Dr. Teddy Tepora, Ms. Sheryl D. Fenol, and Ms. Mary Jane A. Amparo served as evaluators in the tourism and hospitality management category. The activity was spearheaded and initiated by the CEd Research Coordinator, Dr. Jake Raymund F. Fabregar.