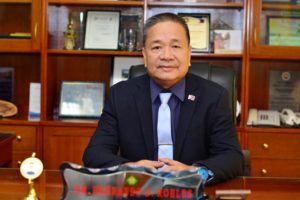 Greetings!
Our dear first year students, I wish to welcome and congratulate you on your successful admission to Cavite State University (CvSU) this Academic Year 2019-2020. Whatever course you intend to pursue in the next four or five years, you made the right decision.
The University is now in its full implementation of Republic Act No. 10931, known as the "Universal Access to Quality Tertiary Education Act of 2017" by State Universities and Colleges (SUCs) and Local Universities and Colleges (LUCs) that will surely create a positive change in your life as well as transform your personal life.
Your arrival in CvSU marks a new chapter in your life, another milestone of molding yourself through the experiences and challenges you will encounter along the way. This special journey is not easy but with your commitment and dedication, undoubtedly, you will achieve academic excellence that will spell success.
Savor and enjoy the many opportunities to learn new things, acquire new knowledge, develop new skills, and even enhance your personal attributes to fulfill your goals and live out your dreams.
Leave these tasks to us as we take pride in imparting what you need with the constant guidance and support of our competent and efficient faculty and employees in shaping you to be globally competitive and confidently prepared individuals for future success! Again, warm welcome to our first year, transferees and old students.
Good luck!
HERNANDO D. ROBLES, Ed. D
University President