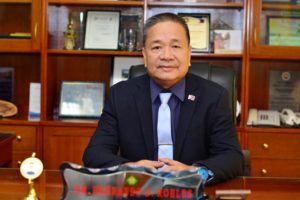 As we all look forward to the University's continued advancement, I believe this executive summary will effectively serve as an inspiration and at the same time motivation in our efforts to become a global-research university.
Our record of accomplishment in 2018 includes:
Sustaining academic excellence
Maintained high percentage of board passers and topnotchers in different programs;
Rebuilt the faculty, increasing faculty size by more than 164 positions, including 136 tenure-track positions; awarded 175 plantilla positions to teaching and non-teaching personnel; and added faculty and staff in major units, Colleges and satellite campuses;
Pushed for quality assurance level-up;
Managed the successful AACCUP accreditation of 37 different programs with its corresponding status.
Enabling student achievement
Conducted listening exercises across campus with student leaders to boost students' morale;
Adopted retention, progression, and completion best practices to ensure that students were on the right track to graduation from day one;
Designed metrics to assess student performance;
Directed classroom assignment and scheduling hindrances to student course and degree completion;
Created block scheduling for freshmen;
Integrated an academic component to new student orientation;
Enhanced the collection of data related to student satisfaction;
Implemented the K-12 new general education curriculum;
With the Office of Student Affairs and Services and the University Registrar, established the profiling of students to provide high-achieving value for the program they enrolled in;
Opened more opportunities for students in the workplace through on-the-job training and other training programs; and
Organized job fairs to prepare students for bigger job opportunities.
Supporting aggressive infrastructure
Aggressive infrastructure development using the General Appropriations Act and Income of the university.
Research capability
Bestowed opportunities for faculty research to be shared with students and the community alike;
Established international linkages for research collaboration and student-teaching exchange programs;
Organized and co-organized international conferences, trainings and seminars;
Facilitated and managed the completion of research outputs utilized by the industry and other beneficiaries;
Increased the percentage of research outputs published in internationally refereed and CHED recognized journal; and
Established Research and Innovation Centers.
Extension services
Strengthened active partnerships with LGUs, industries, NGSs, NGAs, SMEs, and other stakeholders;
Organized and supported different extension programs consistent with the SUC's mandated and priority programs; and
Increased the percentage of beneficiaries through training courses and advisory services.
Strategic objectives
Earned ISO 9001:2015 certification;
Improved the Rewards System;
Implemented the ICT-Based Operation;
Maintained the PRIME-HRM; and
Implemented the Health and Wellness Program.
Cavite State University has been in the forefront in the implementation of its strategic development plan, anchored on the Regional Development Plan (2017-2022), CHED Development Plan (2017-2022), and AMBISYON Natin 2040, to produce major improvements in the specific areas of higher and advanced education programs, research, extension and production.
With the challenges ahead, Cavite State University reaffirms its commitment to be '2 FAST 2 SERIOUS' to accomplish the tasks for institutionalization to achieve global recognition in 2019.
HERNANDO D. ROBLES, Ed. D
University President