Valenzuela qualifies for national accountancy quiz
Tricia Mae Valenzuela, a third year BS Accountancy student from Cavite State University, made it to the finals of the 13th PICPA National Accounting Quiz Showdown (NAQDOWN) organized by the National Federation of Junior Philippine Institute of Accountants (NFJPIA).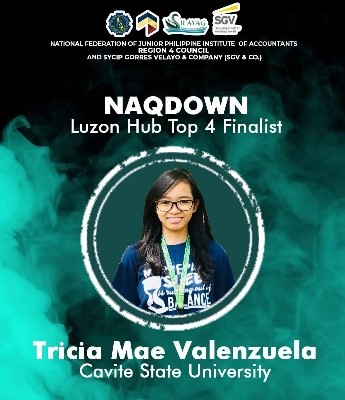 A total of 141 participants from all the regions in the Philippines joined the contest, via Zoom, and only the top five from each hub (Luzon, Visayas, Mindanao, and NCR) will proceed to the final round which will happen during the National Mid-Year Convention on 14-20 March.
Here's her story of her NAQDown experience and words of encouragement to fellow accountancy students:
"Each JPIA local chapter was allowed to send a maximum of two participants for NAQDOWN. For the CvSU-chapter, me and a fifth-year, was chosen. I was only informed about the said competition on January 27, so I only had around three weeks to prepare. The coverage were the following CPA licensure examination subjects:  Financial Accounting and Reporting (FAR), Advanced Financial Accounting and Reporting (AFAR), Management Advisory Services (MAS), Auditing, Taxation, Regulatory Framework for Business Transactions (RFBT). I was hesitant to participate. I wanted to backout. However, the person who recommended me for this competition was someone I truly respect and admire, Sir Djehan Astilla, my accounting professor, thus I accepted the challenge. I decided to give it a shot by taking a 'shortcut review' – just answering my past exams and downloading test banks since there was not enough time to go over all my books.
At the day of the event, I had no confidence at all. All I was thinking about was how I wasted too much time binge-watching anime and K-drama, so to calm myself, I prayed. But throughout my review, I never ceased my prayers to God, entrusting upon Him all that will happen. On the actual showdown, that was also what I did— I prayed to God, asking Him for strength and knowledge to help me. Honestly, I was surprised that I managed to come this far, for I am aware that my preparations were lacking compared to the other participants. I was already contented when I managed to pass the elimination round wherein the Top 10 per hub were selected to proceed to the semi-finals, so when I became one of the Top 5 Luzon hub qualifiers—I had no words. I was overwhelmed, and thankful.
For my fellow students, I know how scary this course can be. There were a lot of hardships and setbacks to overcome, a lot of sleep to forfeit, and other sacrifices to make. However, I want you to remember that as we chase after the elusive three letters, we are not alone in this journey. We have our parents, friends and most especially God, who supports and will continue supporting us all the way. It is okay to fall once or twice, as long we steel ourselves and stand back again. Don't be afraid to reach for the stars, but do try to keep your feet on the ground. Per aspera, ad astra."