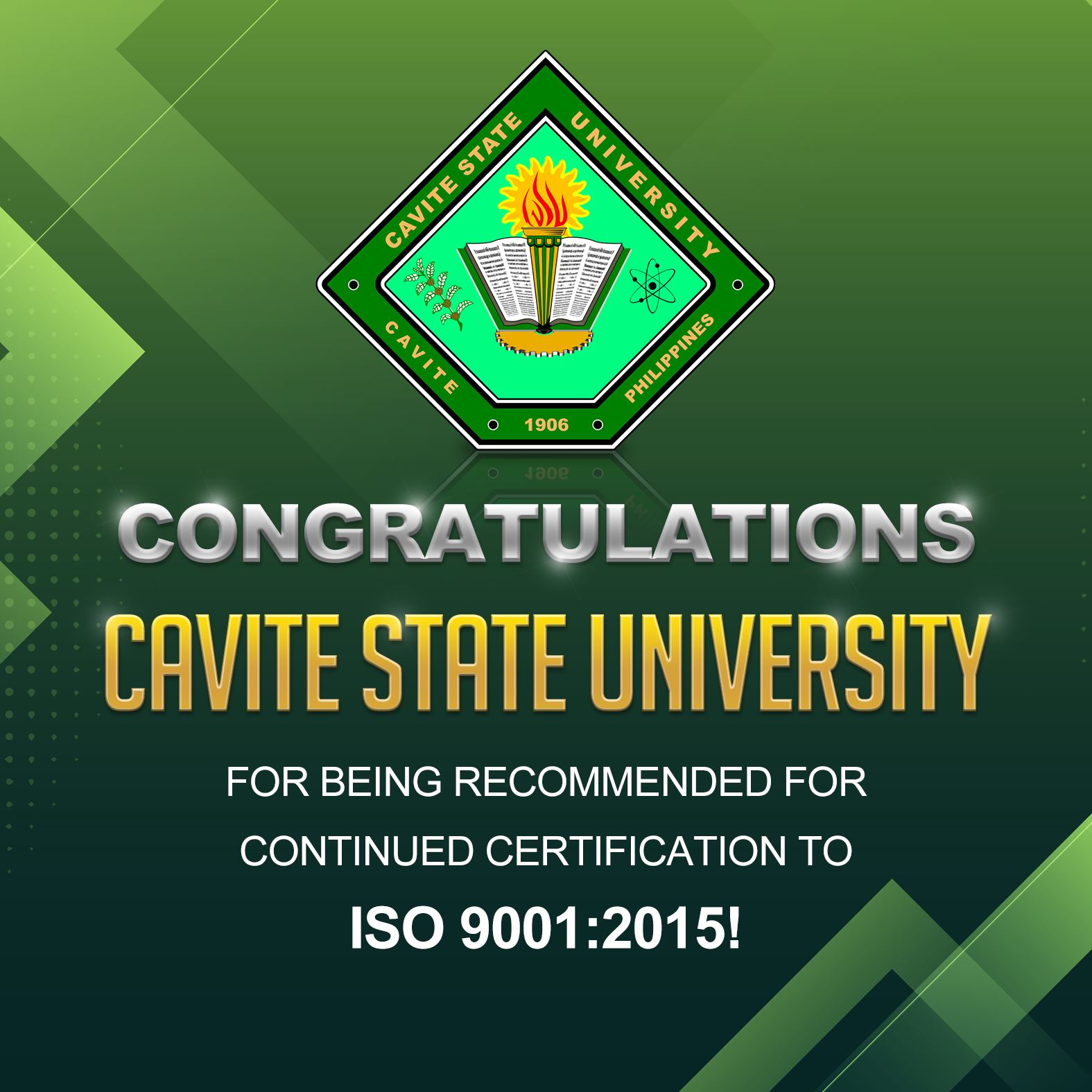 It was a major victory for Cavite State University today as it passed its first virtual surveillance audit by SOCOTEC Certification Philippines, Inc. with no minor and major nonconformities, recommending for its continued certification to ISO 9001:2015.
Even with the challenges brought by the new normal, the University continues to improve its services as guided by its Quality Management System (QMS) in the Provision of Admission and Registration, Management of Learning (covering Graduate and Undergraduate Programs) and Research and Extension Services.
The one-day virtual audit conducted via Webex app was made possible through simultaneous sessions on Context Audit, Planning and Development, OSA Functions, Knowledge Management, Tertiary and Graduate Courses, Finance and Accounting, Purchasing and Supply Management, Control of Documented Information and Internal Audit.
During the closing meeting, CvSU got: two positive findings that focused on commendable organization of documented evidence and demonstration of auditees' understanding of the requirements of the standard and the QMS; one opportunity for improvement that suggests on adapting a scheme of face-to-face Guidance Counseling Progress Report even for online counseling; and three observations that emphasize on the revisiting of allocation of internal auditors, improvement of documented information on supplier re-evaluation activities, and revisiting of calibration requirements and schedule applicability.
The team of auditors from SOCOTEC was composed of  Ms. Laureen Grace Calmerin  as the Lead Auditor, Mr. Gilmore Rivera and Mr. Baltazar Lachica as Support Auditors, and Mr. Robert Jarquio and Ms. Estrella Buenaventura as Technical Experts. The said certifying body was formerly known as AJA Registrars Inc. which first gave CvSU its ISO 9001:2015 certification in 2018.
Prior to the surveillance audit, the CvSU Internal Quality Auditors, headed by Ms. Lolita G. Herrera, conducted an internal audit among various units in the University from August 19 to September 9, 2020. The inputs of the said activity were discussed and addressed in the Management Review on September 24 headed by University President Dr. Hernando D. Robles and facilitated by Dr. Leyma L. Cero, Vice President for Planning and Development and focal person for the CvSU QMS.
As stated in its Quality Policy, "We Commit to the highest standards of education, value our stakeholders, Strive for continual improvement of our products and services, and Uphold the University's tenets of Truth, Excellence, and Service to produce globally competitive and morally upright individuals".